Not Surrendering Hope in Dark Times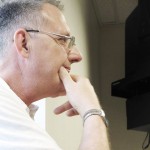 by Dan Hagen
NP Columnist
And then there's that moment when you're reading along in a good book, and you're surprised by one of your own quotes.
"I guess I treated the whole thing like a big advertising campaign," Stan Lee said. "I wanted to give the product — which was Marvel Comics, and myself in a way — a certain personality."
That's from a 1983 interview I did with Lee published in David Anthony Kraft's Comics Interview magazine, and cited in Sean Howe's book "Marvel Comics: The Untold Story."
Last summer, I finally picked up Howe's book, which begins just before World War II, when hardscrabble Jewish immigrants' sons scrambled to sell new, lurid four-color fantasies with sunshine smiles and sharp practices on shoestring budgets. It ends with today's billion-dollar empire.
In between, in the 1970s, the first wave of fans-turned-pro plunged in, including my friends David Anthony Kraft, Jim Salicrup and Roger Slifer. Perhaps the best book of its type I have read, it has a permanent, handy spot on my biography shelf.
In 1957, Lee was an editor in a literally despised industry, one that was under a largely unfair attack from busybody parents' groups and would-be censors.
I remember Lee once told me that at cocktail parties, he would try to avoid saying what he did for a living. When pressed, he would say he wrote "stories for young people." When he was finally forced to admit he wrote comic books, the people he was talking to would turn and walk away, he recalled.
A gun salesman he met while vacationing in the Catskills had called him "absolutely criminal" for writing comic books.
Lee's publisher Martin Goodman, having made a disastrous decision about distribution, left Lee to fire virtually everybody on staff except Stan's best friend, an artist who in 1958 fell between the cars of a commuter train. Lee called the mass firing "the most horrible thing I ever had to do," and it moved him from a thriving Manhattan office to a cubicle.
Yet within a decade, Stan and artists Jack Kirby and Steve Ditko had built the smartest and most popular brand in comics, transforming the industry, and Lee had moved from his 1950s cubicle to lunching with Fellini and lecturing at college campuses around the country.
How? Lee did it by taking his wife Joan's advice.
Finally fed up by about 1960, Lee was planning to quit the company where he'd worked since he was a teenager. His wife said, well, since you're going to quit anyway, why don't you just try doing a comic book the way you really want to do it? You've got nothing to lose.
Goodman wanted Lee to create an imitation of DC Comics' popular Justice League. Okay, a superhero team, Lee thought. How would I do a comic like that that would interest me as a reader?
All right, no costumes and no secret identities. After all, Lee thought, if I had super powers, I wouldn't hide it — I'd tell everybody. And they wouldn't be goody two-shoes with interchangeable personalities. They'd have strong personalities that would clash, and they'd bicker, and one of them would be a monster so embittered by his fate that nobody could be sure he wouldn't switch sides.
The result was "The Fantastic Four," the first of Marvel's great hits, one that set the pattern for a new era in the comic book industry.
Now, Lee constantly makes cameos in some of Hollywood's most successful movies, all of them based on characters he co-created. "The Avengers," alone, made $623,357,910 at the box office. And in a couple of weeks, Lee's brainchildren will appear again in "Thor: The Dark World."
Stan Lee's world was pretty dark once, too. The point? That the last thing you should surrender is the last thing that flew out of Pandora's box — hope.
Dan Hagen is a former NP Managing Editor, an Effingham native, and is currently a
journalism instructor at Eastern
Illinois University.