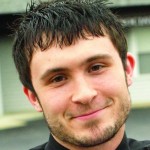 June 11, 2014
by Keith Stewart
keith@newsprogress.com
You've donned an awkward gown, perhaps tossed an even more odd-shaped cap, and you've been given a piece of paper.
You've graduated high school.
And in keeping with the line of customary traditions, I bequeath upon you a bit more wisdom–that is in addition to whatever your parents, grandparents, teachers, valedictorian, salutatorian, and the rest of the world has already heaved upon you: if you must leave, do so without cursing the place in which you grew up.