A Tale of Thor and Man's Best Friend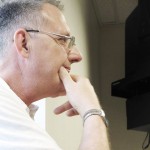 by Dan Hagen
NP Columnist
After their baby was kidnapped and then accidentally and secretly killed the same night in 1932, Charles and Anne Morrow Lindbergh acquired a powerful, fiercely protective German shepherd.
Lindbergh named him Thor, evoking "thunder, strength and the protection of mankind." Within a week, Anne wrote, "The devotion of this dog following me everywhere is quite thrilling, like having a new beau." Thor awakened Anne every morning with his nose on the bed.
Lindbergh trained Thor to open and close doors on command and take the family terriers for a walk on a leash. Thor would reportedly watch his mistress swim in the sea. When he judged she had swum out far enough, he would jump into the water and paddle out to her, pulling her back to shore by his tail. Login or Subscribe to read the rest of this story.