Alumni Wall of Fame Inductee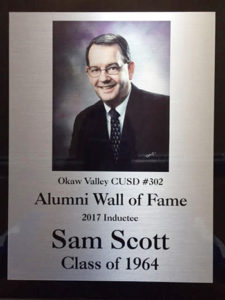 •August 16, 2017•
Sam Scott of the class of 1964 is the Bethany Alumni Wall of Fame inductee.
To be nominated the individual must have been a graduate of Bethany, Findlay, or Okaw Valley. Nominations are based on an individual's contribution to society and community, the betterment of mankind or occupational/endeavor recognition.
Scott earned his degree in finance at Colorado State University in 1968 and a graduate degree from the University of Wisconsin in 1980. He also was a first lieutenant in the US Army and platoon leader and company executive officer in Vietnam 1969-1970. During his service to his country he earned a Bronze Star with Valor and Air Medal. Login or Subscribe to read the rest of this story.