Army Colonel Adds Authenticity to General Waverly in Little Theatre's "White Christmas"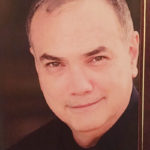 •December 13, 2017•
By Ellen Ferrrera
for the News Progress
Elliott Bales makes his Little Theatre debut playing the beloved General Waverly in Little Theatre's production of "White Christmas". Little did he know that his service in the Army would prepare him for this role.
A Midwesterner at heart, he grew up in Cedar Rapids, Iowa, majored in theater at Abilene Christian in Texas and retired in 2010 with the rank of colonel in the U.S. Army.
"I have watched "White Christmas" for 45 years, and I can relate to the character of General Waverly," Bales began. "He is so beloved by his soldiers because of who he is as a person. But he had difficulty, like many veterans, adjusting to the schedule of civilian life." Login or Subscribe to read the rest of this story.