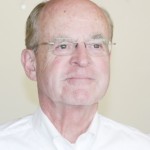 •August 16, 2017•
By Jim Nowlan
NP Guest Columnist
With the recent increase in income taxes in Illinois, our state is once again among the top eight or so in state and local tax burden, while our state services to taxpayers are among the lowest.
For example, state financial support for public schools as a percentage of total school spending is lowest among the 50 states.
Why, you might ask? It's all about the pension albatross, Stupid!
Moody's Investor Services reports the state's five public employee pension systems are $251 billion short of assets adequate to meet guaranteed future obligations. That works out to about $20,000 in debt equivalent for every person in our state. By the way, State of Illinois agencies put the underfunding at about half the Moody's figure, but I tend to go with the worst figure when it comes to Illinois fiscal problems. Read More