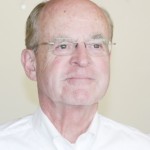 •August 30, 2017•
By Jim Nowlan
NP Guest Columnist
There is an old saying that only six people in Illinois understand the state's school funding formula, and they can't fly on the same plane. So, now that the topic is in the news, let's stand back and try to grasp the underlying fundamentals of school finance, which are all about money and politics, that is, the struggle over who gets what.
Illinois schools overall spend more per pupil statewide than the national average, and much more than neighboring states. According to Governing magazine, in 2014 Illinois spent $13,077 per pupil versus $9,548 in Indiana; $10,668 in Iowa, and $11,186 in Wisconsin.
The problem for Illinois is that we rely heavily on the local property tax to fund our 800+ school districts. As a result, property-rich districts on the North Shore just above Chicago spend as much as $24,000 per student, without need for any state dollars, while my rural district in Stark County spends less than half that. In Iowa, by contrast, per pupil funding varies little, maybe 3 percent, from district to district.
Teacher salaries account for much of the difference in district spending: The average teacher salary in Stark is $48,500; New Trier, $110,000. Read More