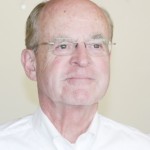 •August 24, 2016•
By Jim Nowlan
NP Guest Columnist
This is the second in a series about "politics and policymaking in Illinois."
In his biography of Illinois governors titled "Mostly Good and Competent Men," the late Chicago Tribune reporter Bob Howard concluded that the 40 to hold the office thus far have been, with a few notable exceptions, okay but not remarkable, certainly no visionaries among them.
Are there lessons to be learned by Illinois GOP governor Bruce Rauner, who has struggled in his battles with Democratic House Speaker Mike Madigan, from those who have gone before? Maybe; maybe not.
Several past governors stand out.
A penurious lawyer on the frontier, Democrat Thomas Ford (1842-46) restored fiscal integrity to the state, important for prospective outside investors.
Ford insisted that Illinois tax itself to pay in full a huge debt that had been run up earlier by the likes of lawmakers Lincoln and Douglas to pay for "internal improvements" (canals, plank roads and railroads) that mostly died aborning.
Republican Frank Lowden (1917-1921) received national notice for reorganizing a state government comprising scores of tiny bureaus into but a handful of state agencies. Read More