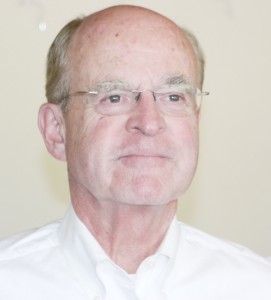 •March 9, 2016•
By Jim Nowlan
NP Guest Columnist
The March 15 Illinois primary election will serve as a desperate last stand effort by the GOP Establishment to slow the Trump bandwagon, which appears headed to the party's nomination.
Just a few short months ago, Republican operatives would have given Donald Duck as much chance as Donald Trump, a one-time Manhattan liberal, of winning the GOP nomination.
What has happened?
This past Tuesday, Trump won all southern states but Ted Cruz's Texas decisively. His juggernaut can now be slowed only by wins for Gov. John Kasich and Sen. Marco Rubio in their home states of Ohio and Florida on March 15 (where both trail Trump in recent polls), combined with something less than Trump domination in Illinois.
Little has been written of the Illinois primary thus far for the understandable reason that the media focus has been on the rollout of primaries up to this point. A February 24 We Ask America poll did find Trump leading both Rubio and Cruz in Illinois by nearly 2-1 margins, with Kasich trailing in single digits.
Illinois offers two concurrent contests for the presidential candidates. At the top of the ballot is the "beauty contest" preferential vote. Whoever wins a plurality here picks up 10 delegates. Read More