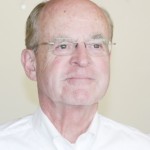 •June 22, 2016•
By Jim Nowlan
NP Guest Columnist
I am giving readers a break from my rants about the destructive state budget impasse.
In that regard, I am hearing from savvy observers that the next real full-year budget may not come until after the 2018(!) gubernatorial and legislative elections.
Those contests will equate to a political Armageddon (a final battle between Good and Evil, depending upon your point of view). Such a delay in budgeting, the fundamental responsibility of those we elect, would be unforgivable.
Instead, I want to focus on the importance of face-to-face conversation in a world "AF" (After Facebook). In only a short decade or so, this social platform has become central to the lives of many of my friends and hundreds of millions worldwide.
The topic comes to mind following a recent visit to the postcard pretty town of Prophetstown (pop. 2,000), nestled along the Rock River between the Quad Cities and Sterling, where I wowed (he writes, modestly) the local Lions Club with a talk about Illinois.
I was invited by old friend Bud Thompson (probably nobody in the town knows his first name is Howard), who is the consummate community leader. Read More