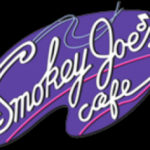 A Toe Tapping Good Time!
By Ellen Ferrera
for the News Progress
Did someone hold you close as you slow danced to "Stand By Me" or did you rock out to "Young Blood"? Remember "Charlie Brown" and 'Love Potion #9"?
Smokey Joe's Cafe plays June 5 through June 16 at the Little Theatre on the Square in Sullivan. Show times are 8 p.m. Wednesday through Sunday with 2 p.m. matinees on Saturday and Sunday.
If you loved these songs ( and even if you didn't), this is the musical for you. I guarantee that you will be tapping your toes, clapping and singing to all these old favorites. Don't miss this stunning revue as presented by a talented cast who just has a romp and sings their hearts out. Read More