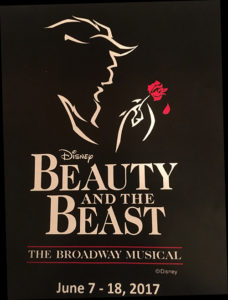 •June 14, 2017•
By Ellen Ferrera
for the News Progress
Indeed, researchers estimate this story to be at least 4,000 years old with its origins in the Greek myth of Cupid and Psyche. Written in 1740 by Gabrielle-Suzanne Barbot de Villeneuve, the original story had no Gaston or talking furniture - these are figments of Disney's imagination.
In the 1700's marriages were still arranged and this story was specifically intended to prepare young French girls for such a marriage.
Almost every country has a variant folktale of Beauty and the Beast, and it has been adapted for film (three times), stage, TV, opera and even a ballet.
That said, I can't gush enough stars for this stellar production, its incredibly talented cast and especially the set and stage crew.
A narrator begins the prologue of how the Prince is turned into the Beast as the Prince, Beggar Woman and the Enchantress pantomime the action on stage. The curtain descends and rises again on a breathtaking French square as the villagers colorful costumes and carrying wonderful props bring the town to life. Belle (played by Samantha Matthews - she of the translucent skin and sterling voice) enters as does her father Maurice (Pat Swearington) and their loving and devoted relationship is revealed in the song "No Matter What". Maurice has invented a clever wood shopping contraption for the science fair. Pat Swearington in both voice and mannerisms makes a most believable, devoted father. Read More