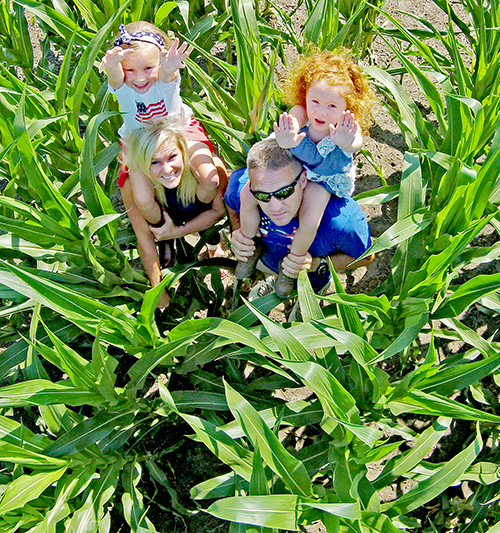 •June 29, 2016•
It is a tradition to take a look at the annual corn crop in the area and judge whether it is knee high in July.
Corn has grown especially well lately with the combination of rain and heat.
Some may say it is at the point where you can hear the stalks as they grow.
This year's corn is far past knee high in July, as RR Best's drone photograph of the Graven family illustrates. From the drone: Aubrey, Kennedy, Chelsea and Kenny stand in sky high corn.
"Driving between Tuscola and Sullivan and looking at various crops, the 2016 crop is off to a great start," Moultrie Douglas Farm Bureau Manager Tyler Harvey said of the crop so far this June.
"It is amazing to see the growth and size of some of the cornfields for being in June," he continued.
However, looking at the long range forecast, upper 80's and 90's is slated to stick around.
With this,some measurable rainfall is needed every few days to keep the crop growth at the level it is.
Harvey noted in a recent report that with the warm temperatures, wind, and sun, it does not take long for the moisture to be pulled out of the ground.
Photo by RR Best