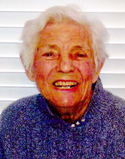 Gwen Wilson
Gwen J. Wilson, 91, of Decatur passed away Tuesday, October 14, 2014 in Decatur Memorial Hospital.
Memorial services to celebrate Gwen's life will be held at a later date.
Gwen was born July 24, 1923 in a farmhouse in rural Dalton City, the daughter of Earl and Genevieve Smith Cruit. She graduated from Bethany Township High School. She is a retired farmer and member of Westminster Presbyterian Church and PEO.