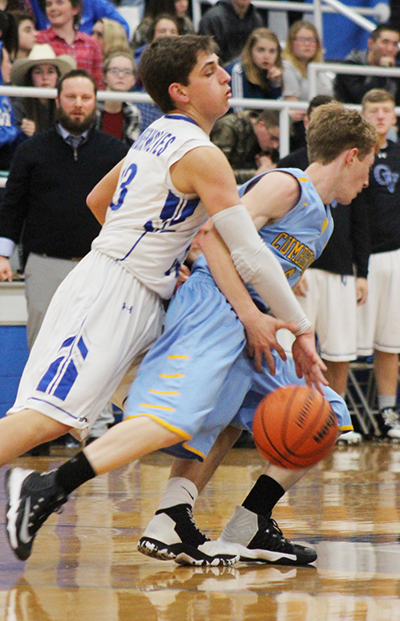 •January 11, 2017•
By Jason Brown
NP Sports Editor
The Okaw Valley boys' basketball team has won its last 7-of-10 games to even its record to 8-8 for the season.
"We have been trending upward as the season has moved along," said OV coach Brooks Inman. "Hopefully we can continue this trend into conference play."
This week the Timberwolves split a pair of games, defeating Cumberland Friday and losing to Central A&M in a rescheduled game Saturday.
Against Cumberland, OV played from behind most of the game, trailing by four at the half, 21-17.
Down 23-20, the Timberwolves put together one of the best quarters the team has had all season.
"Against Cumberland, we executed pretty well in the first half," said Inman. "We just didn't knock down our shots. We came out in the third quarter and started connecting."
While turning the ball over in the entire third quarter, OV made 4-of-5 3-pointers in the quarter, and in a span of less than three minutes, the Timberwolves scored 10 unanswered points.
With 5:50 left in the third, Taylor Coleman hit a 3-pointer from the top of the key.
"Taylor Coleman picked us up big-time with nine points in the quarter as well," said Inman. Read More