Daddy Daughter Dance to Benefit The Little Theatre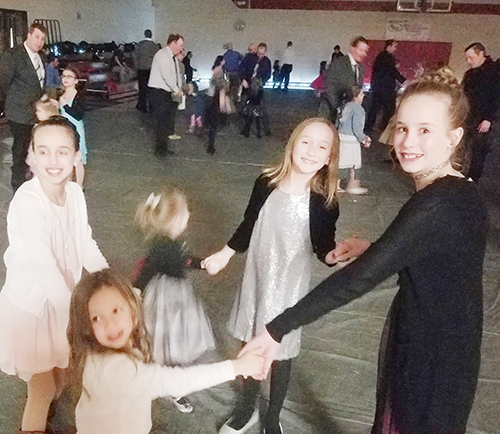 •January 31, 2018•
Once again, The Little Theatre On The Square will hold a Daddy Daughter Dance fundraiser.
The dance is 6-8 p.m. Saturday, February 10th at Sullivan Elementary School.
This third annual event is expected to be bigger and better than ever. Last year, more than 220 people attended .
"We're holding the dance at SES again this year," said theatre board member and dance organizer Amanda Standerfer. "The location worked really well for us as we can have different activities in different spaces."
This year's theme is "The Enchanted Ball," evoking images of princesses and magical evenings. Login or Subscribe to read the rest of this story.

The dance will once again feature cupcakes from the Sullivan Bakery, a make-it take-it craft, and photo opportunities. Plus, lots of dancing! In addition, Standerfer says that there will be a raffle for a new American Girl doll plus other goodies. "We're excited to try new things this year," said John Stephens, The Little Theatre's executive producer.
To make the dance registration process easier, organizers say they will use tickets for easy entry the night of the event.
On-site registrations will be moved through a different door to speed up entry for those pre-registered.
"We know things got backed up at the entry last year because we had so many people, but we're planning new crowd flow measures this year," said Standerfer.
To obtain tickets for the February 10 dance, go online to www.thelittletheatre.org and click on "Buy Tickets." Those buying tickets online will receive an email to print them at home.
Or, you may call The Little Theatre Box Office at 217-728-7375 and order tickets over the phone. Tickets may be picked up at the Box Office or mailed to the purchaser's home.
"It's such a fun evening for the girls," said Standerfer. "We encourage all dads and father-figures to bring the special girl in their life!" The dance is open to girls of all ages, but Standerfer noted that most are between the ages of 18 months and seventh grade.
Anyone with questions about the dance may contact Standerfer at aestanderfer@yahoo.com or post a message on the Facebook event.