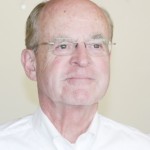 •April 12, 2017•
By Jim Nowlan
NP Guest Columnist
There are saving graces in rural venues like Stark County, Illinois (pop. 5,900, 1,000th that of Cook County).
I am filling in at the courthouse for my ace reporter (my only reporter, for that matter), who is recovering from surgery.
Here is the scene at the stately Greek Revival courthouse, where Lincoln and Douglas spoke on back-to-back days in 1858:
A former federal prosecutor, Judge Thomas Keith presides, looking like your favorite uncle, twinkly blue eyes and a broad face looking for every opportunity to break out into a warm smile.
To Keith's right is circuit court clerk Julie Kenney. Her dark brown hair and matching eyes contribute to a professional presence. She handles the paperwork for the judge. Read More