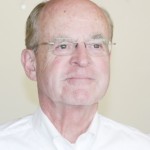 •November 30, 2016•
By Jim Nowlan
NP Guest Columnist
I spoke post-election to the Current Events Class in Evanston, 30 or so mature and very successful professional and business couples who have been meeting for decades to assay the world around them.
Over coffee before my remarks, I learned that most couples had been unfavorable to Trump. I also sensed that their children and adult grandchildren were married and part of what I call the two-income "double professional" class, and doing very well.
In this election, Evanston and most of the suburbs in the once reliably GOP "golden crescent" around Chicago went for Hillary. In contrast, my rural county of Stark, like all of rural Downstate, was casting two of every three votes, or more, for Donald Trump, a much more GOP turnout than normal.
I pointed out to the worthies in Evanston that, sadly different from the situations of their offspring, many families in Stark, often headed by single white moms, are earning as little as 1/12th to 1/30th (this last for single moms) that of the double professionals.
When I was growing up in Stark in the 1950s, most families were intact and felt middle class. Read More