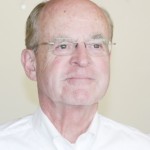 •August 17, 2016•
By Jim Nowlan
NP Guest Columnist
This is the first in a series of eight essays about politics and policy-making in Illinois, which will run between now and the November election, interspersed here and there with a few columns on timely topics. Since we will see no presidential election campaign in Illinois (the race has been ceded to Hillary; campaign money will go elsewhere), election activity here will focus on a few contested state legislative races.
[The Roman philosopher and politician Seneca said that, "All that's past is prologue," so I hope this series, a kind of primer, will help us understand how we came to where we are today in Illinois politics—fragmented, fractious, barely functional.]
In 2010, the Associated Press analyzed our 50 states and found Illinois to be "the most average." That is, Illinois almost mirrored the nation as a whole in demographic diversity and economic activity.
Average maybe, but certainly not typical.
In his book, "The Nine New Nations of North America," Joel Garreau found Illinois to be part of three of those nations, more than any other state: Foundry, Breadbasket, and Old Dixie. Read More