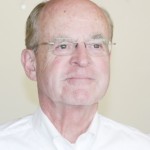 •January 4, 2017•
By Jim Nowlan
NP Guest Columnist
Several readers sharply disagreed with my recent column that took Gov. Bruce Rauner to task for his budget strategy, even criticism from a savvy, insider Chicago Democrat who said I was too tough on the governor.
I have apparently failed to differentiate for readers between Rauner's objectives, which I support, and his strategy, which I believe has failed. I subscribe to the old Will Rogers adage: "If you find yourself in a hole, stop digging."
I wish now I could have taken back that column before I sent it out, because I committed a cardinal sin of opinion writing: I didn't propose an alternative strategy, which I offer herewith.
Let me stipulate that Illinois House Speaker Mike Madigan has been in that role way too long and must go.
Indeed, Madigan may suffer many of the dastardly faults Rauner has leveled at him, though he is not quite alone the antichrist.
Over his tenure as speaker there have also been three Republican governors. It was also Republican legislative leaders who in the 1990s, when in power relatively briefly, changed the rules that gave Madigan, who simply continued those rules, many of his near-dictatorial powers. Read More