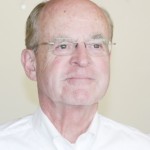 •August 10, 2016•
By Jim Nowlan
NP Guest Columnist
The political conventions are over, and the consensus from both parties is in—there are lots of frustrated, even angry white males out there.
What to do for these men appears, however, rather elusive. Neither party has convincing— to me anyway—ideas about what to do over the long term to address growing wealth inequality as well as the structural economic change that leaves many of those without a college sheepskin out in the cold.
The fundamental difference in approach between the parties is that Democrats want to redistribute wealth from the rich to the rest, and Republicans don't, worried that the wealth would be wasted by government.
Trump (is he a real Republican?) is a wild card. His economic policy would apparently reduce taxes for all and at the same time increase spending for those left out, deficits be damned.
Economic wealth creation is a relatively recent phenomenon, defined for millennia by war and territorial conquest. Read More