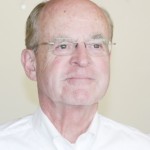 •June 29, 2016•
By Jim Nowlan
NP Guest Columnist
All I can see ahead for state finances is short and long-term harm for the state, which will be very difficult to repair.
Gov. Rauner obviously has no Plan B for his strategy of getting House Speaker Mike Madigan to knuckle under to his demands for a "turn-around agenda," with which I am generally supportive.
I have a Plan B.
After more than a year without funding for food for prison inmates, electric power for state facilities all over the state, and even toilet paper for state employees, among many shortages, Rauner is desperate for some funding.
It would appear that Madigan derives personal satisfaction from letting Rauner—and all of us citizens—twist slowly in the wind by refusing to deal with the governor. Yet a friend of mine who knows the speaker much better than I do said, "No, rarely is anything personal with the speaker. Absolutely the only thing in the world he cares about in political control."
[The speaker did pass a budget that is wildly greater than the revenues to pay for it, and even the Democrats in the Senate rejected it.]
Another good friend of mine passed along a telling story, this one about the Rauner team. Friend had been invited right after the 2014 election to sit down with Rauner's top staff to talk about the transition into the new governorship. Read More