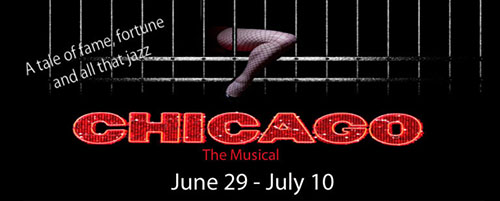 •July 6, 2016•
By Cheryl Murphy
For the News Progress
" A story of murder, greed, corruption, violence, exploitation, adultery, and treachery – all those things we all hold near and dear to our hearts," announced executive producer at The Little Theatre on the Square John Stephens.
Yes, John, "Chicago" was a rip-roaring 20's good time! Not your average Good VS Evil show, or was it? I found the audience cheering over and over again for the two main characters – murderesses in fact. But it was the 1920s in Chicago when everyone wanted to perform their own lives. Everything became a song or dance, a production.
A perfect example was the "Razzle Dazzle" which eludes to the fact that the press and courts of the time just might have let you get away with murder to make you the next star. Much of the show highlights that corruption in Chicago's journalists, police, and justice system of the 20s. Definitely, the forefathers of today's paparazzi could have had their start in Chicago of the 1920's.
Hats off to Darren Lee, the director and choreographer of "Chicago." Lee, himself, danced with Hollywood star Catherine Zeta-Jones in the 2002 motion picture "Chicago" as well as toured with the Broadway National Touring Company of "Chicago." Scene after scene it was easy to become a fan of his knowledge and expertise of this musical. Dozens of people exited the Sunday matinee commenting that this was the best presentation of "Chicago" they had seen among multiple venues. Read More