Feb. Unemployment Shows Moultrie as Lowest in Central Ill.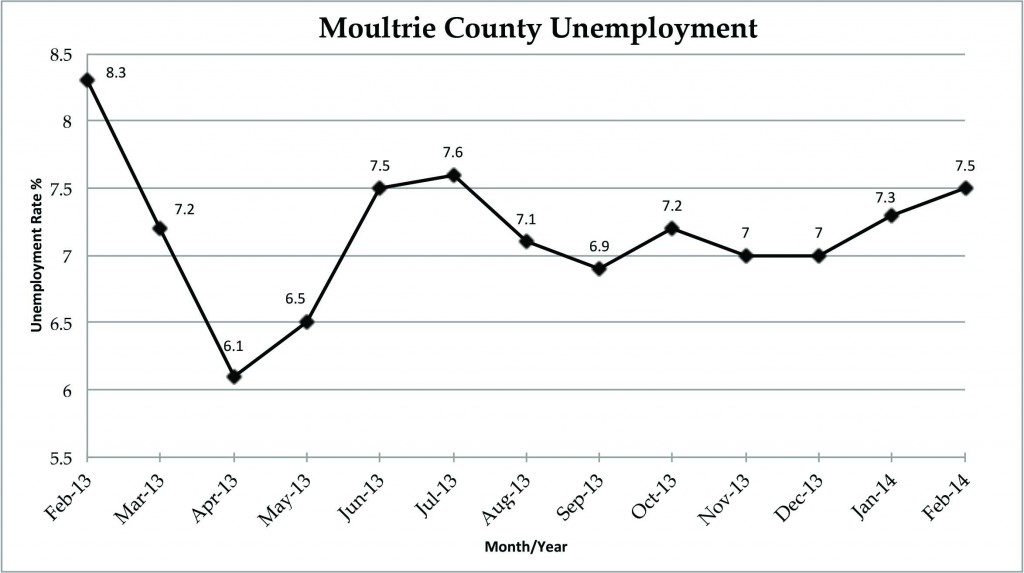 Most still see overall increase from Dec.
by Keith Stewart
keith@newsprogress.com
Moultrie County ranked the lowest among nine east central Illinois counties in unemployment for February.
Coming in at 7.5 percent, Moultrie is, in fact, tied for the fourth lowest rate of unemployment in the state with Washington county also at 7.5.
However, the county's rate was an uptick from each of the two prior months, a trend nearly all other neighboring counties also saw. Login or Subscribe to read the rest of this story.

In December, the county was at a flat 7 percent, then increased to 7.3 in January.
Compared to a year ago, February's rate was eight-tenths lower this year, again, a trend many nearby counties saw with the exception of Douglas and Piatt, which both saw increases in the rate from over a year ago.
The increase since December is the first since last October when the rate jumped from 6.9 to 7.2. The rate then leveled off to 7.0 to round out 2013.
The county's labor force in February of this year is estimated to have been at 7,433, up 64 from a year prior. The labor force consists of both the number of individuals who are employed and unemployed but does not include those no longer looking for employment.
But between December and January, Moultrie's labor force decreased by 176 people and only recovered 81 individuals between January and February, still a net loss of 95 individuals from December's labor force.
"I am pleased that Moultrie County remains with one of the lowest unemployment rates in the state. However, It is disturbing that it has been increasing slightly. We are told that we are in an economic recovery, but when we see unemployment rates rising in an area of historic low rates it is puzzling," said Moultrie County chairman Dave McCabe. "What makes it more difficult to understand is the fact that I am aware of several local employers that are having trouble finding qualified employee prospects. I would encourage both employers and those looking for work to utilize some very good assets available to us here in Moultrie County. I am speaking of Lake Land Community College and our local Workforce Investment Board. Both of these entities are committed to pairing employers with qualified candidates for employment."
The last time Moultrie saw a back-to-back increase in the unemployment rate to begin the year was 2010 when it rose from 9.1 the December before to 10.8 in January to a flat 11 in February.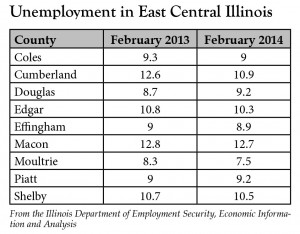 Nonetheless, as McCabe pointed out, at least one of the area's major employers, Hydro-Gear, is in fact hiring.
"Hydro-Gear has not had any recent layoffs for our full-time or flex staff employees," said Christina O'Brien, the company's human resource manager. "Generally, November through May have been our busiest time for production…We have added facilities in Princeton, Ky. and Indianapolis, Ind. to support our growth and always interested in adding  qualified candidates with a positive, quality and safety focused outlook for our factory, sales and operations team, or other positions we have available. Candidates can find our open positions at www.hydro-gear.com/employment."
"In this rapidly changing society, it is prudent for all of us to ensure that our skills are current with the needs of our community," added McCabe.
March's local unemployment figures are set to be released by the Illinois Department of Employment Security, Economic Information and Analysis on April 24.