Obituaries 2-14-2018: Richard Shellabarger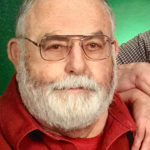 Richard Shellabarger
Paul Richard Shellabarger (Shelly) passed away peacefully after a lengthy battle with cancer February 10, 2018 with his family by his side.
He was born March 16, 1940 in Natchez, Mississippi.
A memorial service was held Monday, Feb. 12 in First United Methodist Church in Sullivan. Login or Subscribe to read the rest of this story.