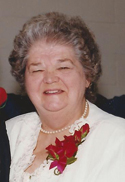 Geneva Briscoe
Geneva Mae Butt Briscoe, 83, of Decatur, formerly of Bethany, passed away early Tuesday morning March 11, 2014 in Eastern Star Home surround by her family.
Services will be at 10:30 a.m. Friday in McMullin-Young Funeral Home in Bethany. Visitation is 4-7 p.m. Thursday in the funeral home. Burial will be in Oak Grove Cemetery in Bethany.
Geneva was born Nov. 1, 1930 in Dunn, the only daughter of 10 children, to John Dale and Lillie Mae Powell Butt. She drove a school bus for the Decatur school district for more than 30 years.