Recent Obituaries: Paul Richard Shellabarger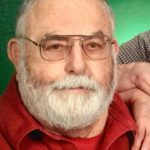 Paul Richard Shellabarger
Paul Richard Shellabarger (Shelly), passed away peacefully February 10, 2018 with his family by his side after a lengthy battle with cancer. Married for fifty-five years to his wife Joyce Shellabarger, Ritchie was an Air Force Veteran and a very active member of his community. A lifetime member of the American Legion, most will remember him lining up the 4th of July parade, running the watermelon contest and sack races. He also spent a lot of time at the grill with Stanley Guin and Joe Shaw. Along with volunteering within the legion post he was a Boy Scout leader (of Boy Scout Troop 39), little league coach, and Prairie Frontiersman. Many acts of kindness were quietly done behind the scenes without any recognition, which is how he liked it. Ritchie was a loving husband, proud father, father-in-law, and even a prouder grandfather. He was loyal, honest, and his handshake was his word.
He is survived by his wife Joyce Shellabarger their six children; Sherry (Jay Lloyd) Shellabarger, Sondie (Eric) Epley, Samantha (Mike) Berner, Stan (Dutes Miller), Susan (Wyatt) Hicks, Seth (Amy) Shellabarger, and twelve grandchildren Paige, Philip, Ethan, Emily, Evan, Benjamin, Brooke, Addison, Emery, Oliver, Gabriel, and Matthew.
In lieu of flower, memorials may be sent to the First United Methodist Church of Sullivan, Cunningham Home Foundation of Champaign, and The Moultrie County Food Pantry.
A memorial service will be held on Monday February 12, 2018 from 10:00 A.M. – 12:00 P.M. at the First United Methodist Church in Sullivan, Illinois.