Alcohol involved as car flips three times, almost 700 feet
by Keith Stewart
keith@newsprogress.com
Two South Carolina women were ejected from their vehicle after failing to reduce speed and negotiate a curve on Route 32 between Sullivan and Lovington Saturday night.
Stephanie Anglin, 31, of Liberty, S.C. and Ashley Garren, 22, of Pickens, S.C. were heading northbound Saturday at around 7 p.m when their 2002 Mazda van lost control near what is better known locally as the Van Gundy curve. A call came in at 7:04 p.m. with first responders on scene at 7:09. Read More
Funding from area counties to remain the same
by Barry Featheringill
Sullivan Reporter
At the monthly Moultrie County Board meeting Central Illinois Public Transit Program (CIPT) Director Dennis Shiley, spoke to the board regarding the intergovernmental agency agreement and annual ordinance to fund CIPT in Moultrie County.
"Our budget is down by $75,000 from last year," noted Shiley. "Unfortunately the state and federal government did not give us (CIPT) any increase, but the funding from each of the six counties in the Shelby grantee area will remain the same and there will be no changes in service."  Read More
Policy 8.30 to allow concealed firearms in school parking lot
by Ariana Cherry
Arthur/Sullivan Reporter
In March, the Arthur-Lovington school board tabled further discussion regarding policy 8.30 and how it was effected regarding the Concealed Carry Law, but last Wednesday the board moved forward, passing an update.
In the current handbook, Policy 8.30 states, "Arthur-Lovington District 305 has established a policy that prohibits guns, ammunition, knives and any other weapons from school property."  Read More

Final inning nearly provides comeback for Raiders

by Kirk Whitaker
Arthur/Sullivan Reporter
Pitching has been pretty good recently for the Redskins baseball team.
Saturday Nick Frerichs two-hit Danville Schlarman en route to a 14-0 win, and Tuesday Shane Atchison returned the favor with a complete game two-hit gem of his own against Central A&M, striking out nine and walking three along with the two hits.
"Shane has been solid all season," Redskins head coach Troy Rogers said. "He knows how to pitch, he's a bulldog on the mound—he's out there with no sleeves because he's crazy—he worked ahead in the count with a relatively small and low strike zone. In the last inning specifically he kept his composure and finished exceptionally well." Read More
Girls edge Central A&M by 11
by Keith Stewart
keith@newsprogress.com
After finishing behind the Lady Raiders last Friday at a meet in Shelbyville, the SOV girls track team answered back with a first place finish at home Tuesday evening and were joined by the boys who landed a persuasive first place over Warrensburg-Latham and the Raiders. Read More
Lady Wolves out strong but can't sustain
by Kirk Whitaker
Arthur/Sullivan Reporter
It's not often that in one inning with one hit, a team can score five runs. But that's exactly what happened last Wednesday in Arthur as Okaw Valley's softball team stumbled with two errors to let Arthur-Lovington/Atwood-Hammond take a lead they wouldn't give up.
"If you take away the one inning where we gave Arthur-Lovington five runs off one hit and two errors, we played them well," said OV head coach Dave Benning. "You can't give a team five runs in an inning, especially a good team like Arthur-Lovington. We were outplayed defensively in two innings, and that is what cost us." Read More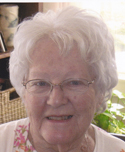 Betty Cherry
Betty Jean Cherry, 86, of LeRoy, formerly of Bellflower and Sullivan, passed away at 1:05 a.m. Monday, April 14, 2014 in LeRoy Manor.
Funeral services will be at 11:30 a.m. Friday in Calvert-Belangee-Bruce Funeral Home in LeRoy with the Rev. Jim Boswell officiating. Burial will be in Bellflower Township Cemetery in Bellflower. Visitation will be from 10-11:30 a.m. Friday in the funeral home.
See Recent Obituaries that submitted after latest publish date
Amber Alert