•February 21, 2018•
Fire safety improved for Sullivan Fire Protection District homeowners with the "Sound the Alarm, Save a Life" free smoke/fire detector program.
Kidde Smoke Alarm Co. is introducing the new 10 year life smoke/fire detectors through the American Red Cross in a nationwide introductory giveaway program.
Homeowners within the Sullivan Fire Protection District qualify for up to three smoke detectors installed by members of the fire department.
Firefighter/paramedic Kaleb Randol is department education coordinator and kicked the free smoke detector program off on the Sullivan Fire Dist. FaceBook page Monday, Feb. 19.
"This is a very big deal for a department our size to be able to offer free smoke detectors to homeowners," Randol said, noting installation is included and said the new technology detectors are a $20 value.
"All the homeowner must do is drop by the fire department or call and get an appointment time set. The application process is very easy," he continued.
He went on to point out the new long-life lithium powered smoke detector is sealed and guaranteed for 10 years, representing a big change from replacing nine volt batteries twice a year in conventional smoke detectors. Read More
•February 21, 2018•
By Eden Martin
NP Guest Columnist
Editor's Note: This is the first in a series of articles dealing with the lynching on the Moultrie County courthouse lawn researched and written by Sullivan historian, native and retired attorney Robert Eden Martin.
On November 23, 1891, in Shelby County just south of Sullivan, Ulysses Grant Atteberry and his brother Ed killed their father David Atteberry, blowing off part of his head with a shotgun.
But that isn't why five years later a lynch mob of Sullivan residents hanged Grant Atteberry from a tree in the Court House yard.
I. The Players
In 1891 David J. Atteberry was a 62 year-old farmer living in Shelby County. His wife Cynthia Jane had died one year earlier leaving him with nine grown children.
The second son — Ulysses Grant Atteberry, whom the family called "Grant" — was 32 in 1891. Grant was married to the former Annice Louisa Stoltz. They had three children: Myrtle, Emma Jane, and Clark Mackin. Read More
•February 21, 2018•
By Ellen Ferrera
for the News Progress
When the settlers began arriving to the vast prairies of central Illinois in the early 1800's, they found a land of bountiful opportunity for their entrepreneurial spirits.
By 1850 Sullivan was an incorporated village and already bustling with such tradesmen as millers, bakers, lawyers, carriage makers, blacksmiths, a dentist and Joel Earp's saloon among others.
Added to these were other businesses in Moultrie County with a coal mine in Lovington, a sorghum mill in Bruce and a bottle making plant in Sullivan.
There was a very rich vein of coal running lengthwise through Illinois, and a number of small mines sprang up in central Illinois. Chief among those in what was called the Lovington Triangle, was the Lovington Coal Mining Co. which started operation June 24, 1901.
After three attempts, a 902 feet shaft was completed and the 8' 10" vein of fine quality coal was hoisted above ground. Coal mining was Moultrie County's leading industry it ceased operation in 1924.   Read More

•February 14, 2018•
By Ellen Ferrera
for the News Progress
A sea of fashionable red couture flooded Courtyard Estates as more than 150 senior citizens converged for the 10th annual Valentine's Day Luncheon and Poetry Contest Friday, Feb. 9. The event is sponsored by the Mid-Illinois Senior Services and hosted by Courtyard.
Tables were beautifully decorated with white tablecloths, red placemats and centerpieces of red rose arrangements in crystal vases.
Red and gold balloons floated above the tables. Ellen Ferrera presented a program of piano selections that included " Be My Love", "My Funny Valentine", "Let It Be Me", "My Own True Love", and "The Nearness of You". Read More
•February 7, 2018•
By Eden Martin
NP Guest Columnist
Editor's note: This is the third in a series of three columns on movie theater history in Sullivan by former resident and author Eden Martin.
VIII. The Illinois Theatre
Almost immediately after the Jefferson burned, talk began about what would replace it. J.H. Ireland, once a manager of the Jefferson, contemplated opening a new theater on the east side of the square. Art Palmer also looked for a room somewhere he could operate as a movie theater. Sullivan Progress, January 9, 1925.
Then in late January Blaine Maxwell announced that he would open a new movie theatre in the I.O.O.F. building on the south side of the square on February 1. The new theatre had a seating capacity of about 360. Advertisements for the new theatre began to run in early February. Read More

•February 21, 2018•
By Jason Brown
NP Sports
Three years ago as sophomores, Paige Robinson, Natalie Jeffers and Hope Ruppert saw major playing time for the Okaw Valley girls' basketball team.
The Timberwolves finished that season 16-7 overall and 4-1 in the Little Okaw Valley Conference.
More importantly, the seeds were sown.
Last year the trio had high expectations for the team, and though the OV finished 18-9 overall and 3-1 in the LOVC, the Timberwolves were bounced out of the regional by a tough Central A&M team.
This year as seniors, the trio of Robinson, Jeffers, Ruppert and the team's strong supporting cast were not going to be denied. Read More
•February 21, 2018•
By Jason Brown
NP Sports
The Arthur-Lovington/Atwood-Hammond boys' basketball team defeated Arthur Okaw Christian to finish out its regular season, then defeated Georgetown Ridgefarm in the first round of the Class 1A Salt Fork Regional.
Monday night, ALAH defeated Georgetown-Ridge Farm to advance to the next round.
After a close first half lead, 31-29, the Knights were able to pull away in the third by outscoring Georgetown-Ridge Farm 19-5.
From there, ALAH held on for the 56-42 win.
"It wasn't pretty, but we survived and advanced," said ALAH coach Dale Schuring. "The first half was lacking in effort. We played a much better second half on the defensive end and in rebounding." Read More
•February 21, 2018•
By Jason Brown
NP Sports
After a magical IHSA Class 2A post-season run that included regional wins against the No. 10 seeded Meridian, No. 3 seeded Greenville and No. 2 seeded Tuscola to win its 12th regional title and an upset win against No. 1 seeded Marshall in the sectional semifinals, the Sullivan girls' basketball team's season came to an end with a 56-25 loss to Teutopolis at Effingham St. Anthony last Thursday.
"I'm so proud of what these girls were able to accomplish down the stretch," said Sullivan coach Sheri McCain. "They brought home a regional title and made it to the Sweet 16."
With a loud crowd behind Sullivan to start the game, Elizabeth Green stole the ball two possessions in a row and scored each time on transition layups to help put the Redskins up 8-6 at the end of the first quarter. Read More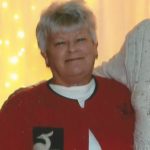 Marsha Hall 
Marsha Ann Gray Hall, 64, of Sullivan passed away at 9:57 p.m. Wednesday, February 28, 2018 in Sarah Bush Lincoln Health Center in Mattoon.
Services will be held at a later date. McMullin-Young Funeral Home in Sullivan is in care of arrangements.  Read More
See Recent Obituaries that submitted after latest publish date

Amber Alert